Clearwave Fiber Powers Your Home Internet and Puts Power in the Palm of Your Hand
Your Clearwave Fiber Router delivers a fast, reliable home Wi-Fi experience AND it comes with the Clearwave Fiber Wi-Fi App so you can conveniently manage your home Wi-Fi network – it's simple, easy to control and worry-free!
App Features
With the Clearwave Fiber Wi-Fi App, you can:
Change or reset your Wi-Fi network name or password directly from the app.
See the devices currently using your Wi-Fi.
Categorize your devices (e.g. personal devices, work devices, mobile devices, gaming devices).
Pause the internet for any device, at any time.
Create routines for scheduled downtime (i.e. bedtime or limited access to gaming devices during school time).
Create a temporary or shareable guest network without sharing your main network name and password. Great for house guests, visitors, babysitters, house sitters, or pet sitters. Text the guest network login information directly from the app.
All of the app features that come with the Clearwave Fiber Router (noted above), plus the following:
Block applications  and categories that you deem inappropriate.
Set time limits for specific applications to cap screen time.
Set Safe Search and YouTube Restriction to block harmful or inappropriate content with searching on Google, Bing, or YouTube. YouTube Restriction also blocks all comments on videos which often include inappropriate language.
View usage for all devices to better understand HOW the internet is being used in your home.
Prioritize application groups or specific devices to ensure the best possible experiences for your most important needs. Set schedules so that work applications get priority during the day, and streaming applications get priority in the evening.
Proactively monitors your home's incoming traffic and automatically blocks anything suspicious.
Blocks attempted visits to known harmful websites, presenting users with a browser message indicating that the website is not available.
Provides an active security monitoring service that uses a large and constantly growing database of threats (database is updated weekly).
Uses Intrusion Prevention Settings (IPS) to monitor, notify, and prevent activity such as hackers trying to gain access to the local video content (Wi-Fi connected doorbell or baby monitor), virtual meetings, and other streams.
Actively terminates data transfers before a malicious payload is delivered to any vulnerable network device.
Notifies users whenever a security issue is triggered, with details about the device that was attacked, where the attack came from, and when the attack occurred.
Get Started with the App
The app allows you to easily manage your home Wi-Fi network within minutes. Download the app and take control of your Wi-Fi network today!
The password you enter here will be used to access the app.
Tap the QR code that appears within the app. (You will be asked to allow access to your camera.) Point your camera at the QR code found on the bottom or side of your Clearwave Fiber Router (example shown here). Select OK.
If you are currently using the CommandIQ version of the app:
Please follow the instructions above to download the Clearwave Fiber version of the app using your same log-in credentials.
Update Wi-Fi Network Name and Password
Press "My Network" on the home screen.
Press "Networks".
Select the network you wish to update the name or password for.
Press "Edit" and update your information.
Note: Changing your SSID or password will require you to reconnect all your wireless devices previously connected to that network.
View Devices on Your Network
Select "Things" from the Home screen.
Select "My Network" from the Home screen.
Select your main router.
Select "Bandwidth Test".
Select "Run Test".
Create a Guest Network
Tap the "+" icon from the main menu.
Select Networks.
Select "Guest" in the dropdown menu.
Give your Guest network a name (SSID) which will be visible to guests.
Select security type, if desired.
Choose a password.
Select isolation if you do not want the user to be able to access your other wireless networks.
Set the duration to endless or create a custom duration.
Parental Controls (Basic)
Tap the "+" icon from the main menu.
Select "People" to create a new profile.
Add a name and photo if desired.
Select the devices which belong to this profile.
Select "Done".
From the home screen, select "People" and select the desired profile.
Swipe the Internet Access toggle off to pause all devices connected to the profile. Toggle on to bring devices back online.
Set time limit schedules to turn Internet access off for all assigned devices during specific times and days.
Click: Check out these videos:
Setting up your Wi-Fi Network
An Introduction to the Main Dashboard on your Clearwave Fiber Wi-Fi App
Getting to Know People Places Things in the App
How to Change Your Network Name and Password
View Network Usage With the App
Enable or Disable Applications Using the App
Want even more coverage and control?
Take your experience to the next level with Wall-to-Wall Wi-Fi – gives you whole-home Wi-Fi coverage plus unlocks advanced features through your Clearwave Fiber Wi-Fi App: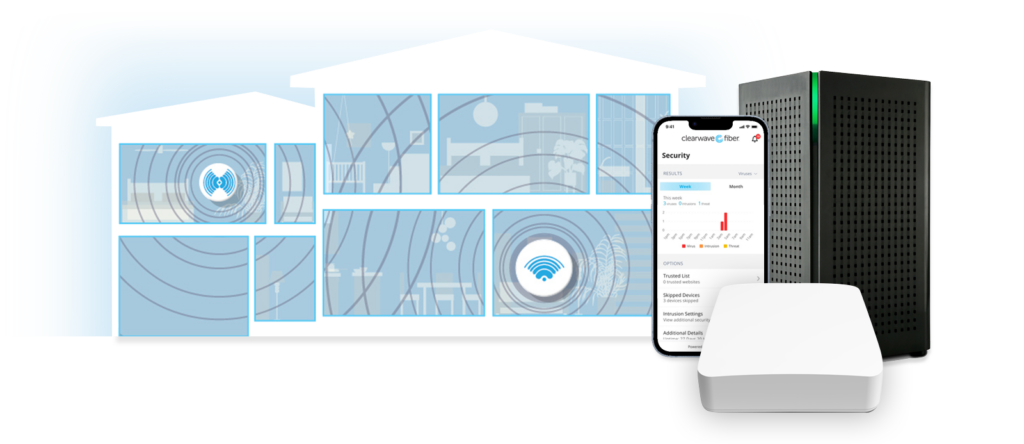 Call today to get Wall‑to‑Wall Wi‑Fi for just $10/month more