Goodbye Glitches.
Hello Happy.
Finally, home Internet designed for your connected lifestyle. Work, learn, surf, stream, shop and play at the speed of light on our 100% Fiber network.
Up to 250 Mbps download & upload speed
Great for streaming
Unlimited data included
Connect multiple devices
No contracts
Up to 500 Mbps download & upload speed
Perfect for families
Unlimited data included
Connect multiple devices
No contracts
Up to 1 Gbps download & upload speed
Amazing for gamers
Unlimited data included
Connect multiple devices
HD downloading and 4k streaming
No contracts
Don't see the plan you're looking for? Don't worry!
Not all rate plans available on online. Call 866-404-3751 now and a Clearwave Fiber agent will be happy to help you find the best deal available in your area.
1Includes $15/month discount for new subscribers. Prices subject to change after 12 months. Taxes and fees not included.
Experience the
Clearwave Fiber Difference
Everything you want and none of the things you don't.
Unleash the power of Fiber throughout your house.
Fiber-Fast Wi-Fi.
The Clearwave Fiber Router delivers a Wi-Fi experience you can count on. And it comes with the Clearwave Fiber Wi-Fi App so you can easily manage your home Wi-Fi network – set profiles for people and places in the house, run bandwidth tests, create guest networks and more. Add our router for just $10/mo.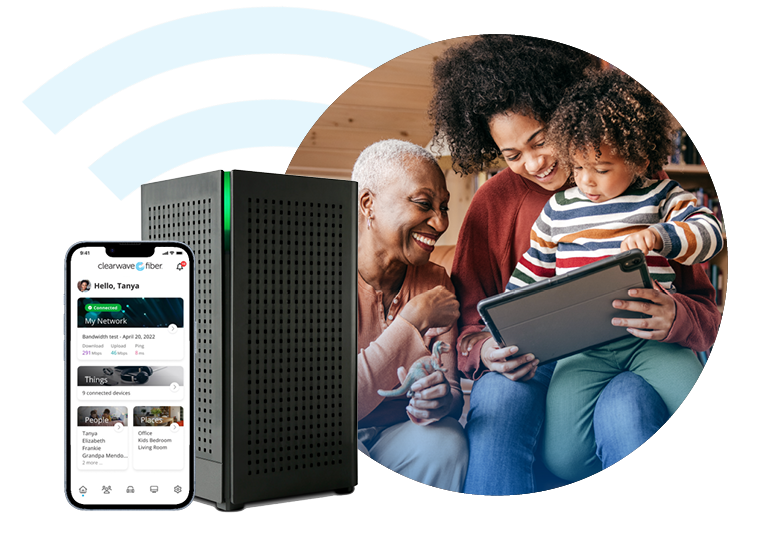 Coverage. Control. Convenience.
Whole home Wi-Fi coverage meets an extraordinary, secure experience with our Wall-to-Wall Wi-Fi.
No more fighting over Wi-Fi or worrying about online threats.
Get peace and quiet and peace-of-mind for just $10/month.
Stream On…
You've Got 100% Fiber.
Fiber-fast, symmetrical speed and reliability opens the door to an incredible television, sports and movie streaming experience. You choose what you want to watch, when and where.
Switching to streaming is super‑easy!
There's No Better Time
to Flip to Fiber
Experience faster, more reliable Internet with no contracts, no data caps and no overages charges. Make the switch to our 100% Fiber network and get the home Internet you deserve.
Be the first to know when Fiber is coming to your area!
Our construction crews are working to provide Fiber Internet to 500,000 homes and business, and our network is growing every day. Please complete the form below and we'll keep you updated about our build activity in your community and let you know when Clearwave Fiber Service is available at your address.